Buy Tickets to AFF 2015!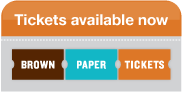 What a great idea! We always knew you were smart. Here's how it works:
Multi-show passes are a great value, and we love them because they encourage our audience members to see more than one show during this amazing weekend. Be sure to come to the Preview Party on Wednesday, June 3, so you can check out three minutes of each of our 20 shows and see what leaves you wanting more!
6-show passes: $40
10-show passes: $60
All-Access passes: $99
All passes include one festival admission button. The passes are transferable, so you could buy a six-show pass and bring a friend with you to three shows, but your friend will still need their $3 festival admission button in order to get past our eagle-eyed box office managers and volunteers. (They're watching you….)
We'll have passes and buttons available for sale at our Fringe Central location at 7 Stages, 1105 Euclid Ave., starting Wednesday June 3 until Sunday June 7.
Single tickets: $10, cash-only, at the door, for the show you wanna see. You also have to purchase your $3 Fringe button when you purchase your first ticket. It's a one-time only purchase, so your first ticket will be $13, and any other single ticket will only be $10. Keep your button on; you can't get into shows without it!
There will be no reservations or pre-sales available.
FRINGE CENTRAL:
7 Stages, 1105 Euclid Ave. SE, Atlanta GA 30307
Office hours:
Monday & Tuesday: 3 p.m.-7 p.m.
Wednesday-Friday: 3 p.m.-9 p.m.
Saturday: 11 a.m.-9 p.m.
Sunday: 1 p.m.-7 p.m.